109 Main Sreet
Port Washington, NY 11050
Monday - Thursday
11 am - 9:30 pm
Friday - Saturday
11 am - 9:30 pm
Sunday
11:30 - 9:30 pm
689 Glen Cove Avenue
Glen Head, NY 11545
Monday - Thursday
11 am - 9:30 pm
Friday - Saturday
11 am - 9:30 pm
Sunday
11:30 am - 9:30 pm
350 Roslyn Road
Roslyn Heights, NY 11577
Monday - Thursday
11 am - 9:30 pm
Friday - Saturday
11 am - 9:30 pm
Sunday
11:30 am - 9:30 pm
Port Washington Pays It Forward
Through our partnered community service program, Port Pays It Forward, each one of these Post-it Notes is a redeemable free slice for someone in need at our Carlo's Pizza location in Port Washington, NY.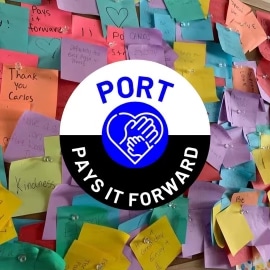 Would You Like To Buy
Another Slice For Someone Else?
A slice is all it takes to make a difference!